INSTITUTE OF DESIGN AND CONSTRUCTION, BROOKLYN, NEW YORK
Spring 2001
COURSE CODE: 04
COURSE NAME: Architectural Design I
Design Project #1: MEMORIAL PARK / CHAPEL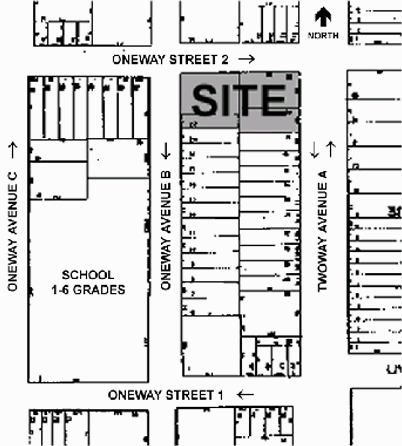 Background
A Community Association in a residential district of a city has been donated an abandoned parcel of land from the city. It has decided to build a small park with a Chapel in the memory of a community leader who was from this neighbor.
The community is in a quiet residential area of mixed income, race and religion. It wishes to create a park as a casual gathering place and a occasional place for community events. A Chapel as a symbolic element of the community Pride and Unity.
The Chapel should be Nondenominational and act as a small Community Center for all the religious and non-religious activities.
Objective
In this exercise, a Sculptural and Monumental aspects of Architecture are emphasized. Three dimensional approach to architectural design is examined and developed. Site Planning and Building Orientation are also examined.
Program Requirements
Design a small Chapel. Location on the site to be determined by the Designer. The Chapel to have Seating capacity of 100 people and to be Handicap Accessible. The Structural System and Building Materials are at the discretion of the Designer. Multi-purpose Main Hall excluding Circulation: 1500 SF, Storage for the Main Hall: 200 SF, Office for a chairperson: 200 SF, (2) Clerical Offices: 150 SF each, Kitchen with Dining Area:300 SF, a Private Toilet, (2) Public Toilets: 40 SF each, Janitor's Closet: 20 SF, Storage(s): 100 SF, Mech. Rm.: 120 SF, Electrical Closet: 40 SF, Vestibule: 150 SF, Circulation as req'd.
The park to have one Drinking Fountain. Seating, Playgrounds, Plantings, etc. are at the discretion of the Designer. There are no existing Trees on Site. No on site parking req'd.
Presentation Requirements
(1) Site / Floor Plan, (4) Elevations and (2) Sections and a Building Model, all at 1/8" =1'-0"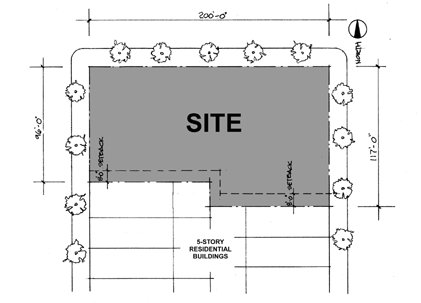 Site Plan